News
3/26/07: NEW JESSE NEWSS!! For one Jesse is touring again. [The Jonas Brothers will be with him too]. A few of his upcoming gigs are:
Ruth Eckerd Hall-Clearwater, FL (4/11/07)
Mizner Park Ampitheater-Boca Raton, FL (4/13/07)
FYI---IM GOING TO THIS ONEEEEEEEE!!!
Centro De Bellal Artes-San Juan (4/15/07)
In other news...Jesse will be appearing in an episode of Hannah Montana as Hannah's BF. This episode is said to be airing sometime in the spring.
Also, his movie "Keith" is set to come out sometime during the spring or summer.
In addition, Jesse is hard at work on a THIRD album which im sure will be EVEN BETTER THAN THE LAST (which is hard cuz it was so great) lol. well ok thats all for now =]]

6/5/06: Heyy I have news that you've all been waiting for anxiously. NEWS ON JESSE'S NEW CD IS OUT!! Jesse's new CD is going to be released in August (2006). One of the songs on it is called "Blow Your Minds". According to Jesse the album will be "Pop-Rock".
Also..Jesse has and upcoming concert in CT. If you're interested go to
www.ticketmaster.com
for tickets. In addition, keep your eyes and ears open for news on Jesse's new movie Keith..as soon as i hear anything I'll post it.
Also..a little random fact: Jesse is giving up his Red Bull addiction. lol. GOOD LUCK JESSE!!
And finally: Jesse is sporting a new hairstyle. Here are some new pix:

4/9/06: HAPPY BIRTHDAY JESSE!!!!
Yep thats rite today's jesse's 19th b-day. So send him cards! You know that his address is listed on the site so send away!!

4/5/06: heyy OMG yes its been a while but now I have such good news for you!!
The Disney Mania 4 CD is out and Jesse is featured in one of the songs and the "That's So Raven Too" CD is out and it features the She's No You Remix--CHECK IT OUTT!!
As many of you know...JESSE WON THE TEEN CHOICE AWARD FOR GREATEST MALE SINGER...(pix from that night are soon to come)
Jesse finished filming Keith and i know I cant wait for it to come out!
Jesse is working on a new CD..i dont know much about it yet other then he is possibly collaborating with Ryan Cabrera and Ashley Angel
...and the best news of all (well at least to me and all you other HUGE SUMMERLAND FANS)...well the show might not be coming back...but! on the-N (also known as Noggin) starting May 1 it will be airing all the old episodes. YUSSS!!! I know i am soooooo excited..are you?

12/3/05: Wow!! I have some MAJOR Jesse news!!!
1. As some of you know..he's in a commercial for Wal-Mart home for the holidays
2. His new film Keith will be filming through this month and then he will write some new songs. He'll be recording his new CD during April and March! Yay!!
3. He is working on two new projects..an animated movie called Tinkerbell where he is the voice of Peter Pan and doing a voice in the Kingdom Hearts 2 video game.
4. He is in a Video-Now commercial..so keep your eyes open!!
ok..well thats all for now!

11/26/05: Hey!! Wow It's been a while since I've had big Jesse News..but no I didn't abandon you guys! All this time I've still been checking the site and all that good stuff. Anyway EPIC Jesse news:
Jesse Dyed his hair Brown!!! At first I was in a state of shock, then sadness, but now I've sort of gotten accustomed to it. Hopefully this new hair is only for a movie role and he'll go back to his beautiful blonde self very soon!! Below are some pics of his new hairdo!!
In addition, Jesse is appearing in the one of the new Wal-mart Home for the Holidays commercials.
Also, the Beautiful Soul Live CD is now available in addition to another new CD.
Jesse is still working on filming Keith but after that he'll be working on a new album. YAY!!!!!
PICS: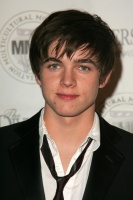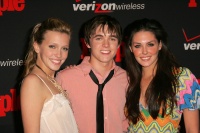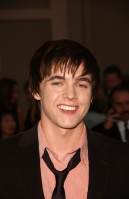 I'm sure you'll love it!!!

10/12/05: Jesse will have a special TV appearance coming up soon. He'll be appearing at the American Music Awards: The 33rd Annual American Music Awards. It airs on ABC, Tuesday November 22nd at 8:00 PM. I hope you all tune in!!!

10/2/05: Jesse is very, very busy right now. He's been doing a lot of touring out of the country. I also know for a fact that Jesse's next video will be "Because You Live". He's shooting the video in Australia.
Also..Jesse's Up Close DVD is amazing...but in addition now you can order the "Beautiful Soul Live Tour DVD" by going to Jesse's official website.
That's all the news for now but keep coming back for updates and new Jesse news!!

8/26/05: Jesse has a few TV appearances coming up including a guest star role on the Suite Life of Zack and Cody on September 18th!! I know I can't wait for that!!
Here are the other appearances:
Fri 8/26 @ 2:00 PM: TRL
Sun 8/28 @ 1:00 PM: Arthur Ashe Kids Day (on CBS)
Sun 8/28 @ 6:00 PM: VMA pre-show
Sun 8/28 @ 8 PM and 11:30 PM: VMA awards
Sat 9/3 @ 10 AN: Hope Rocks (on FOX)
Sun 9/18 @ 7 PM: The Suite Life of Zack and Cody
Well...I hope you tune into all of these shows!!!

8/23/05: Congrats to Jesse for winning 3 awards at the TCA!! He won awards including Best Male Artist and Best Crossover artist.
Also Jesse is nominiated for a VMA..let's wish him luck!
Jesse will have a DVD out in early September..(supposedly Sept. 18 or 20). It's called Up Close. You can preorder it at
http://www.jessemccartneystore.com/
. I know I've already ordered my copy!

8/2/05: I just saw the Jesse McCartney big screen performance! It was amazing! Jesse was hot....but really what's new about that? LOL!
His voice was amazing and he danced a lot! My heart melted. I hope you guys had an opportunity to see it as well. If you did e-mail me and tell me what you thought of it at
JesseMacLover92@aol.com
. KK!
Also...I'm starting my own petition to save Summerland. If you love Jesse please participte!!! E-mail me letters (to the e-mail address above) saying how much you love Summerland. I will be printing all of them out and mailing them to the WB. Please help save the show. It's the best out there!!!! Thanks!

7/29/05:

Jesse will be on MTV diaries this Saturday, 7/30/05. Here are all of the air dates and times:

7/30/05 @6:00 PM

8/1/05 @ 1:00 PM

8/2/05 @5:30 PM

8/5/05 @12:00 PM

also the episode of Punk'd where Jesse helped punk Akon will be airing:

Today @ 11 PM

Tomorrow @ 11:30 AM

Tomorrow @ 10 PM

Sunday @ 7:30 PM

7/27/05: Jesse McCartney was on Punk'd again...except this time he wasn't getting Punk'd...he was punking. He helped punk Akon. The episode will probable re-air sometime this week. I think It will be on again on Thursday but I'm not positive.
to see it. It's awesome..trust me! (He did his own versiom of the Beatles' Blackbird.

7/24/05: Jesse will have a DVD out in stores September 13. It includes music videos, in studio performances, commentary, inerviews, etc.
Also: It was said that Jesse would be on MTV diaries yesterday...but he wasn't. :-(
Hopefuly he'll be on it another time.
On July 26 there will be a clear channel stripped Jesse performance online. Once I get more details I will tell you about it.

7/20/05: On August 2nd there's going to be a HUGE Jesse event. At a few movie theatres all over you can see Jesse perform his songs on the big screen. Go to www.bigscreenconcerts.com for more details. I know I've already bought tickets!
Also this Saturday Jesse will be on MTV diaries.
And remember to vote for Jesse in the Teen Choice Awards!!!

7/9/05: Okay: i watched Jesse on FOX's the menu today and he was HOT!!!! lol. Also, awesome news---he's gonna be on next week's the menu also. Soooo excited!! So next sunday at 11:30 am tune into FOX to see Jesse.
Other TV appearances include:
Punk'd: July 10 (tomorrow)
MTV diaries: July 23
I'll add more when I find out about them.
Anyway...I'm really happy to keep you knowing about Jesse news and everything. I'm hoping you like the site.
Ok. Hope you're enjoying summer vacay!!

7/3/05: I want to wish everyone a Happy 4th of July (I know I'm a day early).
Also:
On July 23 Jesse will be on MTV diaries.
Also he will have a DVD out some time in the fall. More detail to come later.
Also I have heard from my e-mail buddy Via that Jesse's next single will be "Because You Live".
(Thank you Via)
Remember to tune in tommorrow to see Jesse on ABC's America's Celebration!!

Okay--hope you enjoy the article and please, please, please remember to vote for Jesse in the teen choice awards at
www.teenpeople.com
.

6/22/05: Heyy!!! I have a ton of Jesse news! First of all, he's gonna be making a bunch of TV appearances over the next few days.
6/22: He'll be on TRL (I'm not completely sure of this but I'm pretty positive)
6/24: He'll be performing live at Bryant Park on Good Morning America
6/26: He'll be appearing on MTV's Punk'd
7/4: He'll be appearing at America's July 4 Celebration
7/9: He is guesthosting Fox's Menu
And of course you can see him at the Teen Choice Awards August 17 of Fox. Remember to vote for Jesse!!!
Also Jesse did a performance in Washington D.C during a dinner with the President and it will air on TV July 4. OK!! That's all for now!

6/6/05: Remember to watch TRL today! Jesse will be performing She's no you!!!
Also I'm working on adding some new features to the site bu they're sort of...a work in progress so i might not be able to update as frequently but I'll do my best. Also, as a reminder--if you have any site ideas please e-mail them to me at
JesseMacLoVeR@aol.com
.

6/5/05: I met Jesse yesterday! It was amazing! He was so sweet and nice. I loved his concert and totally give it 10 stars. I'll give more details about the concert later but now I have to work on some other stuff.

5/31/05: I just added 2 new photos to the HOT Photo Gallery so you can check them out! Jesse has a few upcoming TV appearances coming up:
June 6: TRL
June 24: ABC Summer Concert Series
July 4: ABC America's Celebration
(If I hear about any other appearances I'll let you know)
Also there may be a slight change in the date that Summerland returns for the last 5 episodes. Instead of June 7 it may be returning June 13...I'll look into it more.
Jesse's Kings Dominion performance is this weekend ( I personaly can't wait b/c I'm going. I also can't wait to meet Jesse at the meet and greet!!!)

5/30/05: I have some Jesse news!
1. I have finally learned the reason Jesse was in the hospital--he had bronchitis but is on his way to getting better.
2. Also...just a rumor but it is said that Jesse's song "That was then" might be his next single.
3. When Jesse was back in Dream Street they made a movie called The Biggest Fan...well it's now available online and in some stores.
Also this isn't exactly news ABOUT Jesse but related to Jesse. I'm soo excited because I have been selected to meet Jesse this weekend. I can't wait!! This is so exciting. Maybe...probably not...but maybe I'll have time to ask him a few questions. If I do, I'll post his answers on the site! KK! I'll update more later!

5/26/05: This isn't Jesse News but I wanted to let you guys know that I added some more Captionz and Jesse What ifs.
Right now I dunno what's new w/ Jesse but I'll try to do some digging and find some news about him. KK. Byez!!!

5/25/05: Jesse will be in a movie called "Keith". He'll be filming it next April.
Summerland will be returning for it's last 5 episodes on June 7. If there's any hope of keeping summerland on the air it's ratings must increase so for Jesse's sake watch it! Also write a letter to:
David Janollari
c/o The WB
4000 Warner Blvd.
Burbank, CA 91522
telling them why Summerland should stay on the air.
Also the Teen Choice Awards ballot is up at
www.teenpeople.com
. Jesse is up for 4 categories so far:
1. Choice Male Hottie
2. Choice TV Actor:Drama
3. Choice Music: Male Artist
4. Music Single: (Beautiful Soul)
So be sure to support Jesse and vote for him!

5/24/05: 2 days ago Jesse was in the hospital but don't worry, it seems that he was only there for tests.
Also, I could be wrong but I think Jesse got a new hairstyle and let me say, it looks HOTT!! I seriously didn't think he could get any hotter...I was wrong.